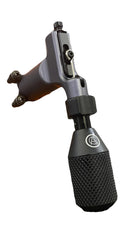 Description
The Hatchback Sled -the rotary designed to introduce coil tattooers into the rotary world.
The Sled has needle and cartridge capability. Comes with click-grip, but is still capable of using standard or disposable tubes.
Adjustable give to resemble the way any coil machine works for lining, shading, packing, or stippling.
Adjustable stroke.
Needle guide-no rubber bands required.
Built in grommet.
High speed, high torque Maxon motor.
Clip cord only.
Payment & Security
Your payment information is processed securely. We do not store credit card details nor have access to your credit card information.