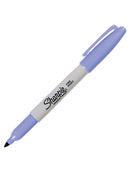 Description
Disponible en fino, mini y ultrafino.
La punta fina es la punta Sharpie estándar que todos conocemos y amamos.
La punta ultrafina es similar a un rotulador o la punta de un bolígrafo pigma.
Los mini sharpies tienen el tradicional " punto fino ", pero con la mitad del tamaño, considérelo una versión superportátil " de tamaño divertido " del Classic.
Disponible en:
Negro
Verde
Amarillo
Rojo
Azul
Morado
Verde lima
Mini Disponible en:
Negro
Verde
Azul
Rojo
Morado
Payment & Security
Your payment information is processed securely. We do not store credit card details nor have access to your credit card information.